Anyone that's known me and my cars for more than 10 seconds knows I get through them at an astonishing rate. No, I don't crash them or sell them on the black market but my mother owns a garage so buys me a car and sells my old one… While usually still being able to get a profit of the sold car. Huzzah!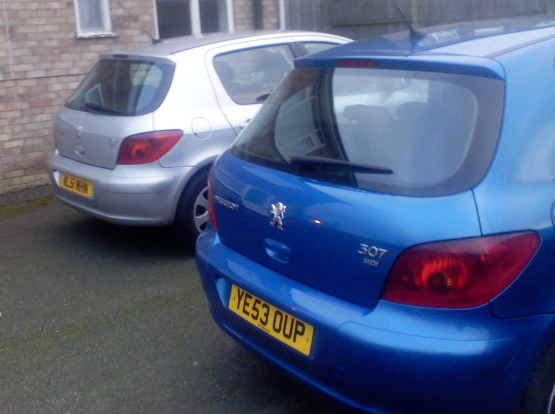 (From left: Old 307; New 307)
The older one is an 02 on a 01 plate whereas the new one is an 04 on a 03 plate, so there's a good 2 years difference between the models.
The engine is a 2 litre turbodiesel, almost the same as my last. Peugeot make two models in the 2l HDI range. One with 90bhp and one with 110bhp. My older was a 90 and the newer is a 110.
Although you can't see it from that picture, there seems to be a ton more space inside the car too. I think they've done something clever with the seats which means a guy of my stature (around 6'4" on a good day; and built to last a winter) now has very little problem getting in and relaxing. A superb move on Peugeot's behalf.
On the road, it's just like before with a little bit of extra jazz. The slightly lower seat allows you to enjoy it a little more too. It's nice. I'll post an update when I've driven it a little more =)