Well I've been away from the writing side of the site for some time and I thought I'd give you all a little update on what I've been up to before I saddle up and start churning content out again.
So where to start. My last official entry was on March 27th. Since slightly before then I've been working on a project for a company that makes educational videos for middle-management types, helping them get into line with other similar companies by getting their material online so trainers can preview the videos at their leisure, opposed to sending off a form and waiting a couple of days for the DVD version. This is still going and will be for a little longer but it's all good.
On the 30th of March somebody decided that I would be a stellar idea for me to get flu and being the obedient guy I am, I contracted that filth and it took me out of play for the best part of a week.
Almost as soon as that was all over, I went to France. Woo! Same place as last summer and the summer before. Went with Harri, her parents, her brother, her brother's wife, her sister, her sister's boyfriend and her brother. Here are a few pictures of the short trip:

This is the view out the back of the house, as seen from upstairs. It's not complete but that's because the monkey with the camera can't control the exposure enough to make the photomerge look decent. [Bigger version (2.7 megs)]

This is the view from Belaye, a tiny little village about 10 minutes away from Harri's house there. As you can see, it's all about the view in Belaye. I took another panorama last year. [Bigger version (2 megs)]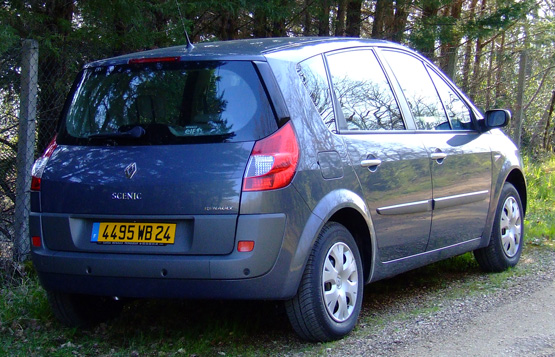 Usually we drive. It's quite a nasty 12 hours each way job and yeah, that includes horrific speeding offences that would probably see me locked up and my car crushed. Anyhow. For such a short break, it doesn't make any sense so we flew and hired this beast of a car.
I've owned a couple of Renault Mnes before but never a Scenic version. I've never needed a large car and to be honest, I didn't really need one that big while I was there. This was a 2l turbo-diesel manual.
Firstly, look at the arse on it! Urgh! I with Renault would grow up and realise that's not cool. Secondly they're the bounciest cars in existence. The suspension is far too soft that makes you feel you're going to roll ever time you go roaring around a corner… Something you do get used to but not cool, all the same.
Finally, the pedals were made for midgets with no feet. If your feet are wider than a few inches, you really can't switch between the accelerator and the brake pedal without a real fight. I should stress that this was a manual transmission. I daresay the automatic version gives you a little more space.
Acceleration in first and second gear is really mincey too. I couldn't tell if that was down to poor power output from the engine or dodgy gearbox ratios though.
All in all, I wouldn't recommend one. They're big with a lot of space but they force you into feeling like you're not really driving the car, rather just suggesting things for the car to do and it might do them if you're lucky. Not fast and it didn't feel particularly safe to drive which is surprising considering you're a good foot higher sat than in "normal" cars.
So that was that. I'm back now and I'll get writing a few things up to get the regularity here back on track.