I've seen a few "show us your desk"-style threads over the last couple of months and therefore I've decided it's time to photographate my little computer area and give you an idea of what things look like at this side of ThePCSpy.com =)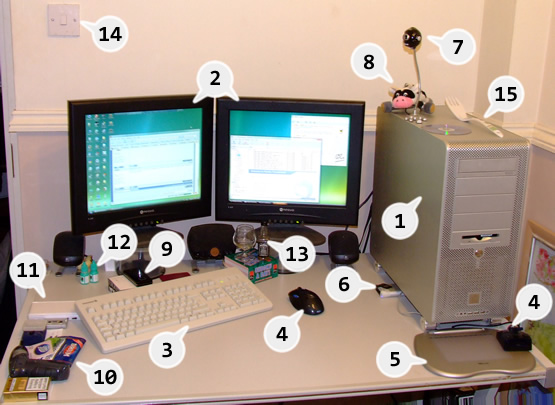 PC. An AMD X2 4800+, 2 gigs of ram, just under a tib of HD space and an ATI x800XT all lovingly housed in a Lian Li v1000 — what I still consider to be one of the best designed cases of all time. PC likes having fun by doing all that fun stuff that Macs are just too snobby to do… Like doing all the work things but also all the games.
Monitors. Two AG-neovo F-217 LCD screens each running at 1280x1024. I've had them for a really long time and I'll never consider using a single-monitor setup for any serious work ever again.
Keyboard. Most people get along with stupidly basic keyboards. Some people opt for the magnificently indulgent keyboards. My keyboard is right in the middle — a Cherry G80-3000. It doesn't have any "multimedia keys" but it does have a gold micro-switch under each and every key. None of that membrane-contact rubbish nonsense here. The difference is immense. It sounds like a machine-gun when I'm typing but it is so comfortable… I really suggest you invest the 60 and have a go.
Mouse. A Logitech G7 and its charger. The beauty about the G7 is there are two batteries. While you're using the mouse, one battery is in the charger so when the battery runs out, your downtime is just how long it takes you to press the button to release the battery from the mouse and the charger and switch them over. It also has a pretty decent sensitivity and buttons to change it on the mouse — really useful for some games and drawing.
Tablet. Just a cheapo that I picked up the other day. Still haven't decided if it's going to stay here.
Memory card reader. Life is too short to be mucking around with a billion USB leads for each device. Much easier to remove their memory card and access it directly.
Webcam. Just a MSI cheapo. It doesn't even work at the moment because they're so cheap that they've still to write the Vista drivers. Thank you MSI! Bastards…
Cow duster. Yup, a screen duster shaped like a cow. Amazing what technology affords us, isn't it? Mootiful.
Phone. I recently put my foot through my Samsung so I'm trying to use this LG Chocolate but I'm not liking it one bit. Only a few months till it's time for my contract to be renewed, so I'll hopefully move onto something a little nicer then.
Drugs'n'tools. Cigarettes, screwdrivers, pens, tobacco, Rizlas, menthol filters et al. Everything a growing boy needs.
DS Lite. Handheld entertainment at its very best. I've got a M3 cartridge for it too so I can download and use homebrew things like the Beup Live MSN client when the computer is off or I'm not on it. Very nifty bit of kit.
Eye drops. Programming for 20 hours at a time can take its toll on your eyes. This is exacerbated when you also use contact lenses, like I do. The drops keep my eyes as fresh as they were when I first put the lenses in. I like.
R'n'R. A tiny bottle of JD and a mini brandy glass mounted on a Su Doku compilation… Just what you need when the computer is being a fusspot.
Lights. Camera. Action! Nothing to see here… Move along.
Scratcher. This used to be one half of some salad tongs… Now it sits on top of my computer awaiting the times when I get an itch in the middle of my back. A life-saver, I tell you.
So there you have it. One desk — A million possibilities. I've not labelled things like my passport or the speakers because they were either too small to see on this picture or just not worth putting the bubbles in. I hope you forgive me.
I thought about "tagging" people to post their own desks but I'll leave that up to you. If you do follow suit, I'd appreciate the link back to this post and also a comment here to your post just so I can see your desks too =)