Before I get started reviewing Shred Agent, I'll disclose that this is a paid-for review. I have, however only been paid for the review and not its outcome. All following opinions are my own.
Shred Agent is an application that can automatically securely delete files. You might think that when you hurl something in the recycle bin and clear it that you've deleted something forever, but if you follow my tutorial on undeleting deleted files, you'll see how easy it is to break that myth!
A "secure delete" is one that writes over the space on the harddisk where the data was previously stored repeated times. This will stop people with the right tools being able to recover the previously deleted data. Shred Agent does this all for you and is quote friendly and minimalistic about the whole process.
I did have some issues starting Shred Agent after install. It did want to crash out a couple of times giving me screens like this: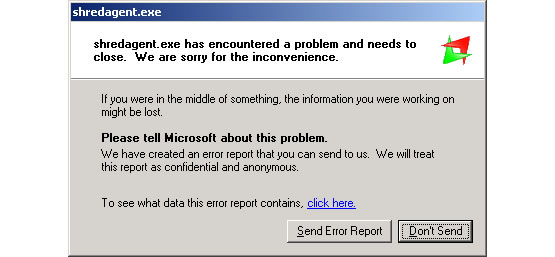 That might be expected with beta releases but the version I am testing is a "stable" release. I did get it up and running after a few attempts and this allowed me to continue reviewing.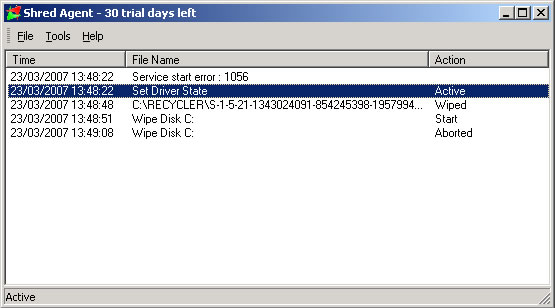 I realise that reading the manual is frowned upon in the technology world, especially amongst us that have XY sex chromosomes, but I thought I would take a look and see exactly what Shred Agent offers.
Wiping free disk space is necessary to make irrecoverable all previously deleted files.
As you can see, there is some broken English lurking in the manual but it's by no means terrible — the meaning can be understood in each case. Shred Agent is made an American company, AKS-Labs, who also have a Russian branch… It's hard to tell who was responsible for the manual.
Anyhow, the features of Shred Agent don't compete that well with similar products. Programs that I have grown up with such as the secure deleter that used to be included with Iolo System Mechanic offer far more options in terms of how securely to delete a single file. That made it very useful if you knew what files were an issue and knew how securely you needed them deleting.
"How securely"? Yes. You can overwrite the space where a file was one or two times and still be able to use forensic hardware to read out a ghost of the data. US Military specs for secure deletion is 7-passes or alternating fuzz-data and 00 data. Shred Agent only does 1-pass at a time so it's hard to tell exactly when your data that you deleted becomes secure.
Scans do take around 30 minutes to complete on average hardware. If you have RAID systems that slow down short random access to the disk you can consider doubling that. Scanning is also quite a noisy process, again depending on your hardware. It does slow things down while it runs.
It used 5megs of RAM while sitting there doing nothing (fairly good) and no CPU (as expected). While sitting in the system tray, this plummets to 476K! When running the RAM usage spikes to an entire 20megs (nothing shocking or bad about that at all) but the CPU usage did hover around 45%.
That does mean running a scan is likely to be a "last thing to do at night time" thing before you leave the computer for the magical Land of Zed, and that's a problem for people who either use their computer in their bedroom or people who turn their computers off when they're not using them.
AKS-Labs have clearly put a lot of effort into making this as less of a memory hog as they possibly can. With a few more features and a little more stability, this certainly could become a must have application for people that are paranoid over their physical system's security and the data stored on it. As it is though, I would recommend having a look at Iolo DriveScrubber which, for half the price of Shred Agent, covers the features that I said Shred Agent missed and for three computers.
But it is early days for this application. Iolo have a big head start on them, so Shred Agent is definitely one to keep your eye on.