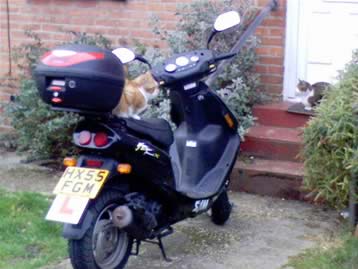 It seems the streets of Southampton are no longer safe after cats recently hijacked a scooter and took it on a joyride of chaos and destruction. Although there are no witnesses of the scooter being ridden by the ginger/white cat in question, local residents are said to be "horrified and appalled" that something like this could happen.
Hampshire police have not released any statement about the incident at the time of writing.
My thanks to my reporter on the ground and long time girlfriend Harri for this shocking picture.