Another Linux review and in my sights this time, Mandrivaclub.nl's MCNLive 'Delft' Release Candidate 1.
As you can probably tell by the maker's domain name, MCNLive is a Dutch production. To teach you a little more, Delft is a city of about 95,000 people in South Holland. Now you know so we can carry on with the review.
The focus of MCNLive is portability — be that on the freely downloadable LiveCD or a USB drive. The meagre 374megs of MCNLive allows you to get away with installing this on very cheap little flash-drive and that makes it perfect for carrying around and using when you need your programs.

MCNLive is built upon Mandriva's Latest 2007.1 Spring and has probably one of the prettiest boot screens I've seen. I've not used Mandriva since it was still called Mandrake, so I expect I'm in for a few surprises.
Speed
Performance is the most essential thing for any distribution like this that intends to stay mobile and "Live". While I can't say MCNLive is as fast as PUD GNU/Linux, I can say it was close, taking just 1m40s, BIOS to desktop.
It's similarly nippy around the desktop. There are a few pauses here and there but that's mainly CD seek and spin-up time rather than data transfer. That's great because if you wump this on a USB stick, you'll feel like you're on a standard HD install.
Hardware
The hardware compatibility is excellent. It found my dodgy wireless card on my dodgy old laptop and worked perfectly fine on both my desktops. It wasn't happy about supporting 3D on my nvidia card out the box though, something they list as a feature for some reason.
Applications
MCNLive whips the pants off PUD in this respect. They haven't stripped everything away and there is still a lot of the power of Mandriva poking through and I had no problem getting the generic wifi PCMCIA card in my older laptop working in a few clicks.
Relating to the networking, that's something I dislike about Mandriva: almost anything you want to change that's ever had anything to do with what you might call the system and you have to head into the control centre. For most things this isn't an issue but for a LiveCD, I would have expected something like KNetworkManager to be loaded in the tray on boot.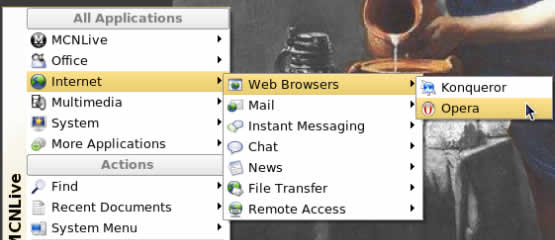 MCNLive has a very bizarre browser selection and Steve's going to love this one: Konq (no surprise there) and Opera !!! Where's Firefox?! I'm not Opera's biggest fan. Don't get me wrong, I'm not saying it's bad just that Firefox has my back and we know each other intimately.
Plug-in wise, MCNLive is armed to the teeth with: QT, Flash, Shockwave, WMP, Java and RealPlayer of all things, so you're pretty well kitted out for installing and heading off to NewGrounds or YouTube.
MCNLive does lack one genre of applications that I would expect on a LiveCD such as theirs: office apps. I guess they're quite heavy apps to keep on a live distro but they could have been offset against the KDE games which are still present… Leave KBounce on though.
To add/remove software in a graphical environment you must battle Mandriva's software management applet: RPMDrake. It's not bad but some of the information could be laid out a little better. This is a problem I have with Mandriva, not MCNLive on its own.
Conclusion
MCNLive Delft is very promising. There are definitely a few areas where they could improve but overall, this is a very fast and very powerful little release, perfect for whacking on a USB memory stick.
I'd like to know what's happening about 3D drivers as I didn't have too much luck with those while I was playing around — but being intended for use as a portable system, I can see why they might not want to get weighed down will silly things like that.
For the most part, the applications included are well chosen and the range of plug-ins and codecs already installed make getting off the ground really quite a nice experience. For everything that isn't included, the available package management makes it easy to customise and the available installers make it easy to get from CD to USB.
Most of my interface complaints are aimed at Mandriva, not KDE or MCNLive. If you're at home with Mandriva, you'll have no problem finding things and I think you'll really like this offering.
To surmise: MCNLive Delft is a solid platform for anybody that needs a LiveUSB distribution platform. The lack of what I'd call needed-software means I can't recommend it for HD installation or running from LiveCD on a regular basis but for portable writeable media, this is awesome.